In this gallery you will find photos from a vacation in Australia 2002 (Kangoroo Island). With your mousepointer over a thumbnail you will get more information. Please click the thumbnail to open the picture in a new window. All images have a size of 950x650 pixel or 90-170KB. Enjoy your holidays!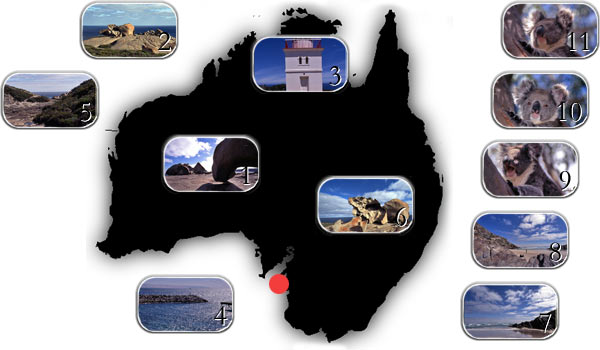 ---
Kangoroo Island
There surely are many beautiful places where you could spend christmas in Australia. And we made the perfect choice with Kangoroo Island. What place fits better than one, which could be called paradise.
Eukalyptusfarms, more than 2000 Koalas, the one and only Kangoroo Island Kangoroo, thousands of Tammar Wallabys, beautiful beaches, the Remarkable Rocks, the Admiral Arch. Enumerating could be continued for quite a while and it tells me, months later, that I have to get back there soon. And take more time, of course.
---
1.-2. and 6. Remarkable
The remarkable rocks, shot in late afternoon light. And these rocks are truly more than remarkable...
3. Cape Borda
The lighthouse near Cape Borda with (still working) cannon.
4. Harbour
The harbour entrance of Kangoroo Island
5. On our Way
Impression on our way exploring the island
7.-8. Beach
Our private christmas eve beach
9.-11. Ultra Sweet
Yes, they are soo sweet. Even if they actually don't look too attractive. Our wild Koalas
---