In this gallery you will find photos from a vacation in Australia 2002 (Melbourne). With your mousepointer over a thumbnail you will get more information. Please click the thumbnail to open the picture in a new window. All images have a size of 950x650 pixel or 80-180KB. Enjoy your holidays!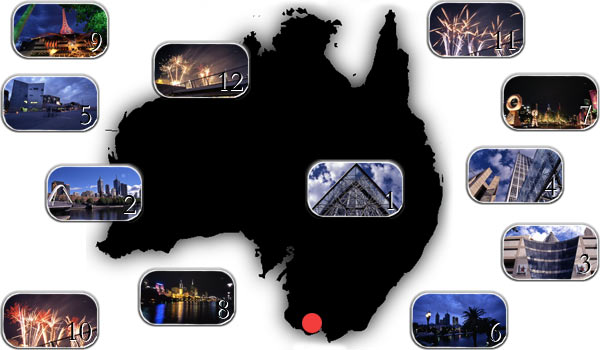 ---
Melbourne
I have to be honest. Actually I would rather've been in Sydney at New Years Eve. But that simply didn't work out. So we were stuck in Melbourne. What can I say... naturally the fireworks in Sydney would have been more impressing, but otherwise Melbourne was a nearly perfect place to spend the last hours of 2002.
Beautiful blue sky accompanied us on December 31st, 250,000 people joined us in the celebration. We enjoyed the great fireworks and the company.
Melbourne is nice place to be any day. The small city center with loads of museums, beautiful parks with shopping possibilities, and much much more. I loved a night walk, which led me to the Shrine of Rememberance and back to the Waterfront. Great!
---
1.,3.-4. Architecture
Impressionen of the very futuristic architecture of Melbourne.
2. Skyline
The bridge which connects the northern city centre with the south of the city. In the foreground the Flinders station
5. Movies
A view of the new center in the city, which is dedicated to film and new media. And vere photogenic
6. Skyline
Melbourne in the blue hour - even more impressive than during the day
7.-8. Waterfront
Overview and impression of the Melbourne Waterfront
9. Red Tower
Museum, cinema and great photo object, directly south of the river
10.-12. New Years Eve
The highlights of the Melbourne fireworks
---