In this gallery you will find photos from a vacation in Grand Canyon 1996. With your mousepointer over a thumbnail you will get more information. Please click the thumbnail to open the picture in a new window. All images have a size of 950x650 pixel or 100-160KB. Enjoy your holidays!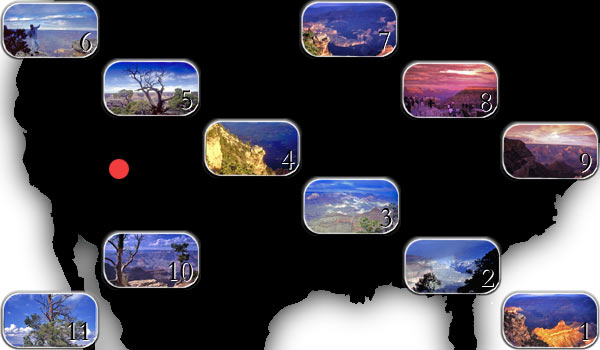 ---
Grand Canyon
We went toward the 'large hole' in the ground and could not not believe it. I think, nobody can grasp the size of that canyon with the first look. We had a great sunset and a phenomenal sunrise (for which I had to throw Michael out of bed at 5 a.m. - that wasn't easy).
It is simply overwhelming (no weaker term would be sufficient) when the sun emerges slowly and wraps one part of the Canyon after the other one into bright yellow light. As if those rocks would be lit from the inside then be switched off. Amazing.
Arnold says: I'll be back!
---
1.-4. Light
Enlightening games at sunset and sunrise
5./10./11. Dead tree
A motive, which fascinates me again and again. Dead and living tree at the same time
6. Daring
Fortunately not as daring as it looks
7-9. Light (II)
Enlightening games at sunset and sunrise
---