In these galleries you will find photos/images from many vacations in Europe (Norway, London, Paris) and from my hometown Stuttgart. Click on the thumbnail to open the named gallery. Enjoy your holidays!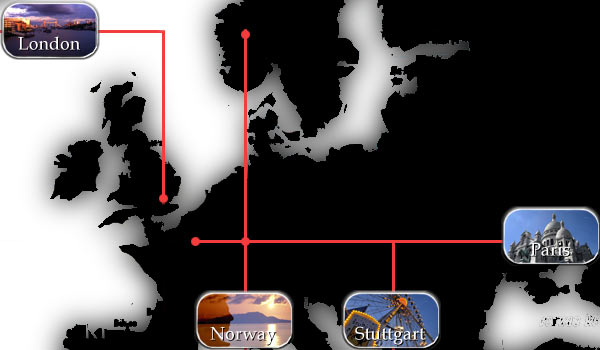 ---
It was 1987, when I lost the blinds in front of my eyes and realized that there are more interesting destinations in Europe but Italy and Spain. From Hamburg to Brussels, Amsterdam, London and Paris led the trip I made with my friend Christian P. in his old, but reliable Ford Fiesta.
You won't find any pictures from this journey in the following galleries, because I couldn't photograph well enough at that time. But the trip had waked an appetite for more travelling. And in the following years I went more frequently to Paris or London.
1992 finally Norway, one of the most beautiful countries in Europe, was next in line. In May 2004 of Paris was the destination of an extensive photo shooting with my new Nikon D70. My legs suffered for approx. 60 miles on thisone but it was worth it.
And - thanks to the Nikon - since April 2004 I can present images of my (fabulous, perfect, beautiful) home anbieten - Stuttgart! Enjoy.
---