In these galleries you will find photos/images from a vacation in South Africa 2003. Click on the thumbnail to open the named gallery. Enjoy your holidays!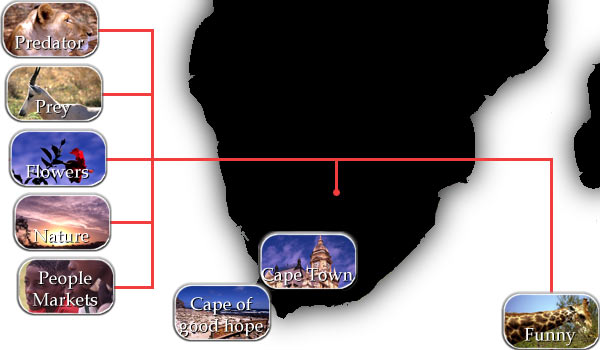 ---
Somehow Africa never really interested me. Australia and America were so far ahead on my personal where-do-I-want-to-go-list that other areas of our beautiful planet just didn't matter. And - to be quite honest - I still don't know why I finally booked my trip to South Africa nevertheless. I guess that my collegue Nicole contributed to the decision and I will be eternally grateful for that. :-)
For the trip and the country there is a simple summary: I didn't regret it. I was not as overwhelmed as I was after the first journey to Australia, but that is probably just because of the fact that Sydney is simply more beautiful than Cape Town. Otherwise South Africa can keep up easily. Landscape, people, animals, everything. I will most certainly return to South Africa sometime - although I say that after almost every trip to a beautiful place. Let's wait and see.
Here is my own travel report from that journey 2003/4. For the first time I really put some effort into my writing. Unfortunately I have not been able to translate the travel story into english so it is only available in german. Sorry!
---
More information about South Africa:
South Africa-Guide.de (german)
South Africa-Info.de (german)
South Africa.net (german)
Kapstadt-Info.net (german)
Capepoint.de (german)
Achtung: Mit Urteil vom 12. Mai 1998 hat das Landgericht Hamburg entschieden, daß man durch Setzen eines Links die Inhalte der gelinkten Seite ggf. mit zu verantworten hat. Dies kann, so das LG, nur dadurch verhindert werden, wenn man sich ausdrücklich von diesen Inhalten distanziert. Deshalb distanziere ich mich hiermit ausdrücklich von allen Inhalten aller gelinkten Seiten. Diese Erklärung gilt für alle auf diesen Seiten angebrachten Links.
---