In this gallery you will find photos from a vacation in South Africa 2003 (Cape Town). With your mousepointer over a thumbnail you will get more information. Please click the thumbnail to open the picture in a new window. All images have a size of 950x650 pixel or 90-230KB. Enjoy your holidays!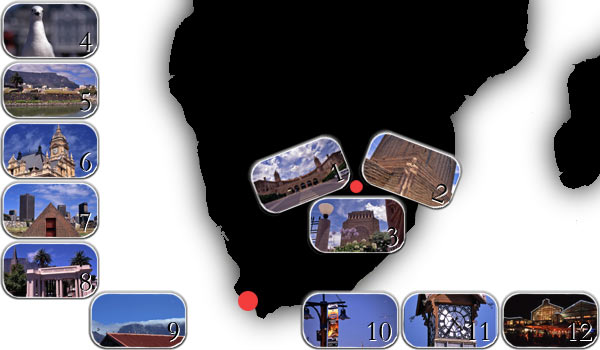 ---
Cape Town and other cities
Cities are most certainly not the main focus in South Africa for the average tourist. But Cape Town (and partly Pretoria) are interesting enough to give them their own gallery. Whereas in Cape Town clearly the table mountain and the other natural surroundings dominate everything. The actual city did not please me tooo well, although I had actually expected it. There are some nice markets though.
---
1.-3. Pretoria
The pictures show the seat of the government in South Africas capital and the Voortrekker Monument on Monument Hill
4. Sea Gull
Since I didn't design a new bird gallery, this sea gull gets her well deserved place in the Cape Town Gallery. For me one of the most beautiful bird pictures I made in South Africa. And the funny thing: I can't even tell you why I think so. I just like it. In the background you can see the waterfront
5. Table Mountain
The view to Table Mountain from the Castle in the city
6. Clocktower (1)
The tower of the City Hall
7. Pyramide
In the inner court of the Castle
8./9. Perspectives
Two views of the table mountain. One above the exclusive hotel, the other one from the waterfront. In the second picture the table mountain carries its little moving cloudy hat, too bad we don't have Harry Potters moving pictures because that would be very neat here
10. Poster
New Years Eve-Festival at the waterfront
11. Clocktower (2)
The clocktower near the bridge at the waterfront
12. Waterfront
An impression of the waterfront at night
---