In this gallery you will find photos from a vacation in Acadia Nationalpark 2001. With your mousepointer over a thumbnail you will get more information. Please click the thumbnail to open the picture in a new window. All images have a size of 950x650 pixel or 60-190KB. Enjoy your holidays!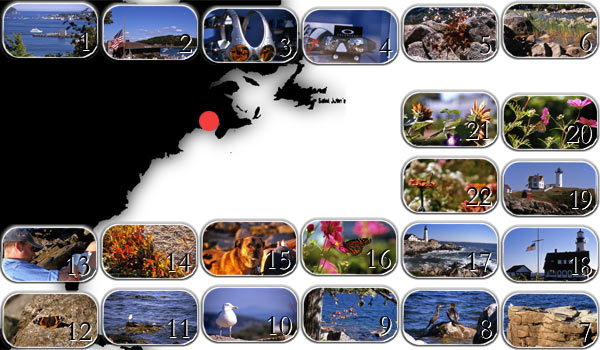 ---
Acadia Nationalpark
Acadia was one of the absolute highlights on the journey - unfortunately the days were in the shadow of September, 11th. We were on a walk around a beautiful lake (images 6 to 9), when we heard of an accident at the World trade center for the first time.
Acadia is a good example for the fact that (apart from the Niagara falls) the east doesn't show you its secrets easily. You have to take your time to look around. And then is still basicly the feelings you have, and not just the results of your camera work.
In addition to that tourism around Acadia is operated very carefully. The small city of Bar Harbor is a good example of how you can can do tourism as well as keeping a relaxed atmosphere. And for me Bar Harbor will not only remain in memory as the place I way on September 11th, but also as the city in which I ate Lobster for the first (and probably only) time.
---
1. View
A view of the beautiful port of bar Bar Harbor - here I could've stayed much longer
2. Mourning
This is the first picture I took after learning about the terror attacks on New York and Washington. It was around noon
3./4. Cool
Isn't it?
7. On the edge
There's nothing better than an animal bringing to live a dead object
8. Secret meeting
The two cranes landed together on the rocks, whispered for a few seconds and then one of them was gone again
13. Potter
At a beautiful place with a good book - relax - Gregor did the right thing
14. Colorful
Leafs in the sunset of September, 11th
16. Runway
This butterfly picture required a little patience
19. Breakers
My 'Favorite-Lighthouse-Picture' from Eastcoast USA
---