In this gallery you will find photos from a vacation in Niagara falls 2001. With your mousepointer over a thumbnail you will get more information. Please click the thumbnail to open the picture in a new window. All images have a size of 950x650 pixel or 60-180KB. Enjoy your holidays!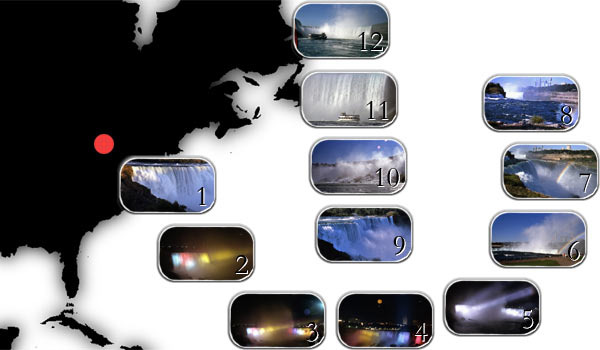 ---
Niagara falls
It is just some waterfalls. Nothing more. I've seen many different waterfalls before. And with the colored lights at night it is just 'kitsch', right? And then the lit balloon - just to make money, right? Everything I said before is true. 100 per cent true. And nevertheless: who's in the area (+/- 500 miles): go there. GO THERE! It's your loss if you miss it...
A few more tips:
1. In any case go to the Canadian side (even if the way back costs you 50 cent :-) ), from there the falls are even more beautiful.
2. In any case travel with the 'Maid of the mist' - the ship gets so close to the water that you can feel the heart of the falls beating.
3. In any case walk from the Visitor center of the US side to the Horseshue-falls.
And me? I will be back - in any case.
---
1. Force
Millions of gallons of water thunder into the depth at sunset
2.-4. Multicolored light
Yes, it is 'kitsch' and thus typically american. But I seem to be americanized as well. Because I believe the lit falls at night to be extremely photogenic
5. White light
Even in bright white light the falls make a good impression
7. Rainbow
Early morning - one hour after sunrise
8.-10. Spray
Into the boat - get dressed with the blue full-body-condom (included) and then fight the forces of nature - as good as you can. And take good care of your camera. It might get wet if you don't
---