In this gallery you will find photos from a vacation in New England, USA 2001. With your mousepointer over a thumbnail you will get more information. Please click the thumbnail to open the picture in a new window. All images have a size of 950x650 pixel or 80-240KB. Enjoy your holidays!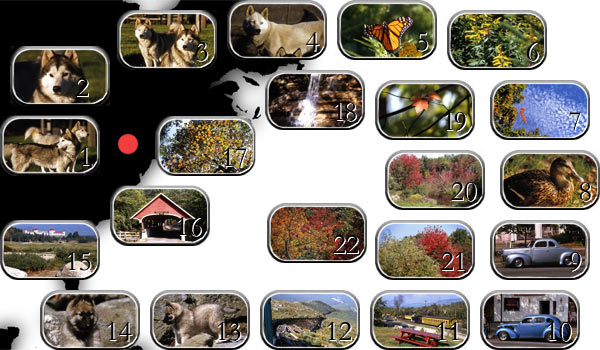 ---
New England Staates
After the cities New York, Philadelphia and Washington finally we went back to nature. No more skyscrapers, no carnoise, but to the many small miracles of Adirondack Nationalpark, to Mt. Washington, to the White Mountains.
It was actually still too early for indian summer, four weeks later it should have been great. Nevertheless we discovered many places, in which the colours of the leaves had already begun to change - in a spectacular way, nothing that can be seen in Germany. One day at noon we discovered a long section of the highway (more than 100 meters) where all tones of red, orange and yellow could be seen.
Consequence: one of the next years - fly to New York - in the middle of October, of course - rent a car - drive through New Hampshire, Vermont and Maine. With many many memory chips in the hand baggage.
---
1.-4. Huskie
At the Niagara Falls I met a Austrian couple with a few Huskies. 10 dogs, one more beautiful than the other. And after feeding the animals I was allowed to feed my camera with these images
5./6. Butterfly
This little friend waited for us after a steep rise in the Blue Mountains. It took a while until it sat down in the sun and spread its wings. But the patience was worth it, I think
7. Red leaf
This tree was the first one waiting with red leafs. And after a while lying on the back and staring at the sky I also found the angle that pleased me photographically
12. Train
Passing Jacobs ladder (37 degrees) we went on Mt. Washington. I can recommend this adventurous ride despite the high costs ($ 40)
13./14. Cute
I know, I did not photograph so many dogs ever. But this chap, 9 weeks old, was too cute to miss. Unfortunately I cannot show with pictures, how clumsy the little buddy climbed the stones
15. Washington
I've never see a building before that fits less into the landscape as the Mount Washington Hotel
19.-22. Colors
These are the pictures of 100 meters of Indian summer, which I described above. My favourite is image 22 - I swear, these were the original colors!
---