In this gallery you will find photos from two vacations in Australia 2000 and 2002 (Sydney). With your mousepointer over a thumbnail you will get more information. Please click the thumbnail to open the picture in a new window. All images have a size of 950x650 pixel or 70-200KB. Enjoy your holidays!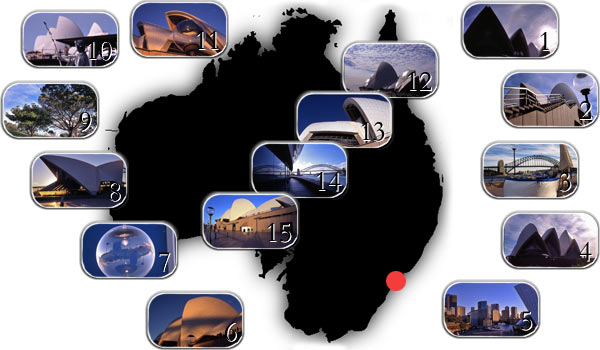 ---
Sydneys Opera
Probably the opera is the most photographed building of the earth. At least it is far up on the list. Then it probably makes little sense to shoot a few dozen pictures more. Well, I couldn't help myself. And in all modesty I believe to have seen the building in ways noone else has before :-) Rather daring, is it not?
But seriously. I can only recommend to spend as much time as possible around the opera. Even naturefreaks (cityhaters) in our group had to admit that they hadn't seen anything like it before.
The problem is: you can see the opera from many points. Which one to select? Tip: Go everywhere. I found orbiting the opera in the morning light and the view from Mrs. Macquaries point at sunset most beautiful. Not to forget being there during blue hour or at night, of course
And in addition you've got Circular Quay and the Harbour Bridge in the neighborhood. Which makes it even more interesting...
---
1. Light
Taken at the first walk, exactly at 8.30 in the morning, approx. 1 hour after sunrise
2. Steps
Same day, a few hours later
3. Market
As mentioned above, the Harbour Bridge is around the corner. And on Sundays a market in front of the opera takes place
4. Bank
The opera is illuminated by northeast. The place is deserted, unfortunately it remains that way only for a short time
5. Quay
A view to Circular Quay, where all ferrytrips begin (and where you can find some pretty cafés)
6. Evening Red
No, no filter, no manipulation. 4 p.m., slowly the sun goes down behind the southern column of the Harbour Bridge. And the bridge paints the shade on the opera
7. Lightball
The lamp is in front of the opera and the opera can be seen on the picture as well. Where? Well, just look, it's not too hart to find if you watch the picture in full size
8. Profile
The breath-taking architecture becomes clear in this picture. The opera in the early afternoon
9. Macquaries
One of the most beautiful places for watching the opera, Mrs. Macquaries point. If only the crowds of Japanese were in Japan, and not in Sydney
10. Art
Lonely artist at work
11. Evening Red (II)
Another day as in image 6, another perspective, but non the less impressive. Sunset at the opera
12. Size
Even if I found hardly anyboys so far, who shares my opinion. This is the best picture I have taken of the opera. One of my favourite pictures from the whole vacation
13. Steps (II)
Taken on New Year's Day 2003
14. Opera and Bridge
A further shot of New Year's Day
15. Evening Mood
My favourite picture of Sydney 2003
---