In this gallery you will find photos from two vacations in Australia 2000 and 2002 (Sydney). With your mousepointer over a thumbnail you will get more information. Please click the thumbnail to open the picture in a new window. All images have a size of 950x650 pixel or 60-190KB. Enjoy your holidays!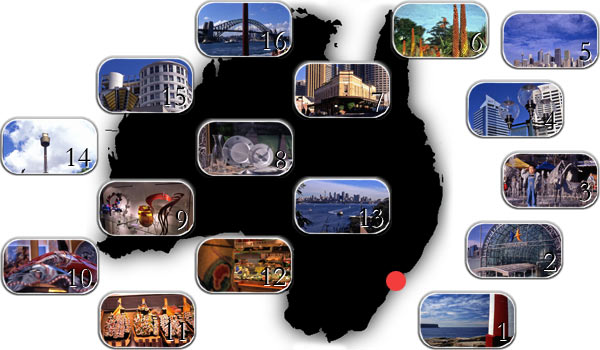 ---
Sydney - the city
Naturally Sydney has more to offer than the opera, the zoo or the atmosphere at night. I arranged a small selection of impressions, which I found on my two stays in the city, in this gallery.
No matter if it's Darling Harbour, Watsons Bay, The Rocks, Chinatown or Botanic Garden, it simply beautiful everywhere and above all worth seeing.
Perhaps I can share a bit of my enthusiasm for Sydney with you by presenting the images in this gallery. Sydney is (and will always remain) the only foreign city, which I know, where I could think of staying indefinitely.
---
1. Lighthouse
Here is my favourite of all the pictures, in which no opera and no koala can to be seen. The combination of blue sky, deep blue ocean and the red lighthouse ist simply... amazing! Taken in Watsons Bay
2. Harbour
A snapshot from the Monorail, driving past the back of the buildings at Darling Harbour
3. Salut
This little boy has learned already that he must obey his father. The Korean instructed his son in a military way and, well... se for yourself. Shot at a fountain in Darling Harbour
4. Light
A view through the lamps at Darling Harbour to the office buildings behind them
5. Panorama
A beautiful panorama for friends of prominent skylines, quite comparable to New York
6. Exotic
Color impression from the Royal Botanic Garden, where you can spend a whole day, if you love plants
7. Old and new
A strange contrast between the old hotel at The Rocks and the skyscrapers
8. Display
I think, for the price of these two plates I could buy two dozen at Walmart. Shop window between Circular Quay and the Opera
9. Display (II)
The price of this display went into the four-digit dollar range. Found and photographed in the Queen Victoria Building, the overwhelming shopping center in Sydney...
10. Boomerang
...where I also found cheaper (but likewise colorful boomerang)
11. Raw
I do not know whether I will mutate to a good food photographer one day. I am sure, however, that I will not transform to a sushi friend. I get stomach cramps if I even think about eating that 'stuff'. But it does look good - from a photographic point of view
12. Foodcourt
Impression from one of many food-courts in Sydney
13. Skyline
Photographed from Watsons Bay. Wonderful view of the harbour and the skyline
14. Fountain
The wonderful fountain in the Hyde Park with view of the AMP Tower
15. Architecture
Not too cheap living area near Darling Harbour
16. Bridge
Another view of the beautiful Harbour Bridge
---