In this gallery you will find photos from two vacations in Australia 2000 and 2002 (Sydney). With your mousepointer over a thumbnail you will get more information. Please click the thumbnail to open the picture in a new window. All images have a size of 950x650 pixel or 80-180KB. Enjoy your holidays!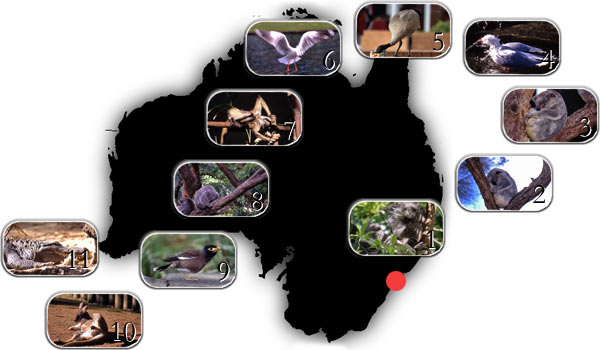 ---
Taronga Zoo
In this gallery you will not only find pictures from Taronga Zoo, but also images from animals I found all over Sydney. You can see sea gulls, kakadus, flying dogs and many more species.
But each animal lover should visit Tagonra, one of the most beautiful zoos in the world. Not only the various enclosures, but above all the fantastic view is worth it.
---
1. Eucalyptus
Unfortunately we did not find Koalas in the wild, but in the zoo we could observe one of the fascinating animals from close up. They are sweet, I didn't want to leave
2./3./8. Nap
It is still another mystery to me, how the Koala can sleep so calm 15 feet over the ground. It has a good sense of balance, obviously
4. Shower
Not just koalas und kangoroos offer the visitor a nice motif. That sea gull does too
5. Mealtime
One of the pictures taken outside of the zoo. This ibis landed on the garbage bin and examined the McDonalds bag. Seconds later he found what he was looking for
6. Approach
Taking this photo I annoyed Petra quite a bit. She wanted to get rid of the sea gulls and I wanted to photograph them. I guess my determination worked out
7. Peace
This one of our ancestors had little desire to get his picture taken. It was obviously during his daily rest period
9. Appetite
Taken at Watsons Bay. All animals around Sydney seem to only sleep or eat...
10. Rest
...which is proven again here :-)
11. Watch
This peaceful contemporary represents the exception to the rule. It does neither sleep or eat. But it seems to look forward to one of the two
---