In this gallery you will find photos from a daytrips to Fruehlingsfest (volksfest) in Stuttgart. With your mousepointer over a thumbnail you will get more information. Please click the thumbnail to open the picture in a new window. All images have a size of 1100x750 Pixel or 150-210KB.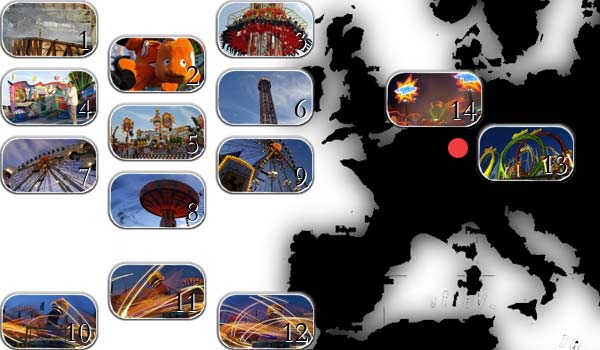 ---
Frühlingsfest
Stuttgarts Frühlingsfest takes place every year around the end of April and is the little brother of the substantially more well-known Volksfest, which again is the (very) little brother of the Munich Oktoberfest. The beer prices on the Frühlingsfest are astronomic, the food prices likewise and after enjoying several rides - like savage mouse, revolution or the cannon ball - your pockets are empty and your weakened stomach might be empty too :-)
But photographicly speaking the Frühlingsfest is very attrative. You can play with speed and light and specially during blue hour some interesting effects are possible.
I have tried to catch movement and speed in my images and hope you like it.
---
1. Wild Water
Help, the waterfront is waiting
2. Nemo
Although it might be forgotten history in a few years... I really liked the movie - and Nemo of course
3.-4. Collective Insanity
I believe I am too old and my stomach is too sensitive: -)
5. Rest
On weekdays business might be boring
6. Close to the moon
You can only get closer with the Ferris wheel
7.-9. Ferris and Co
Two rides in the blue hour
10.-12. Speed
The Polyp - a marvelous photo object for colors and lights
13. Olympic 8
1200 meters in 90 seconds for 5 Euro - is it worth it?
14. Breakdance
Close to the polyp in geniality
---