In this gallery you will find photos from Stuttgart. With your mousepointer over a thumbnail you will get more information. Please click the thumbnail to open the picture in a new window. All images have a size of 950x650 Pixel or 100-260KB.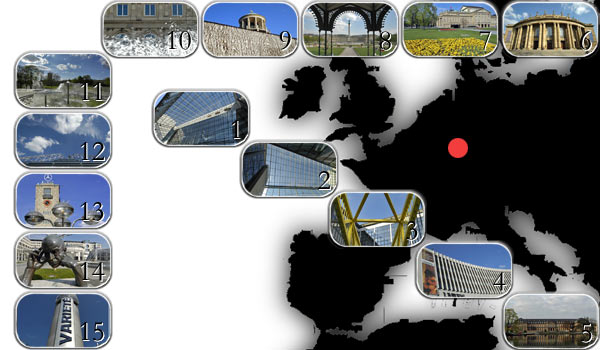 ---
The city of Stuttgart
Stuttgart has many facettes. Old and new. Many of the main attractions are built around the Königstraße (king street) and the Schloßplatz (castle square). On one end of the Königstraße you will find the main station with the impressive and well known tower.
All the pictures in this gallery are from Königstraße or in walking distance. There will be another gallery featuring other attractions of Stuttgart later.
---
1.-4. Landesbank
Impressions from the main building of the Landesbank, one of Germans major banks
5. Castle
One of two castles in the city, the reflection is from the Eckensee, which means cornered sea
6.-7. Opera
Two images from the 'Große Haus', where operas and ballet are shown
8. Schloßplatz
The major square in Stuttgart, with the new castle in the background. One of the most beautiful places to spend a lazy afternoon
9. Wall
Takes in early spring, with ivy all over it
10. Windows
Three windows of the new castle with a little fountain in front
11. Fountain
One of many fountains in the huge Schlossgarten (castle garden). In the background you can see the tower of the main station
12. Planetarium
Quite old by now but still fascinating architecture
13. Tower
Now from close up - the tower of the main station
14. Thought
A sculpture in deep thoughts at the Friedrichsbau square
15. Tower (II)
A the Friedrichsbau variete
---