In these galleries you will find photos/images from two vacations in West Coast USA 1996 and 2002. Click on the thumbnail to open the named gallery. Enjoy your holidays!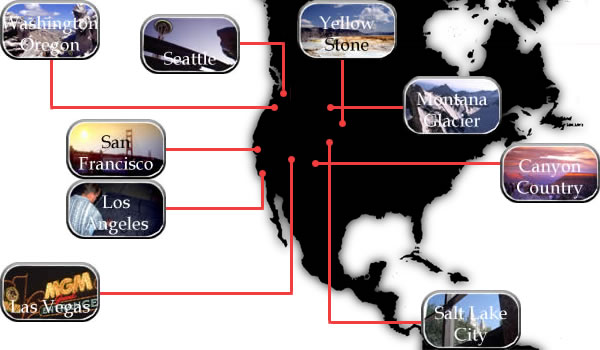 ---
Since the moment when I had seen an image of the Grand Canyon, the southwest of the USA was a top priority on my where-do-I-want-to-go-on-vacation-list. Year by year the journey was delayed, sometimes for financial reasons, sometimes because of lacking time, sometimes because of missing company. But then the planning finally began in autumn of 1995 and exactly one year later the trip started.
Michael and I had agreed on a route which began in Los Angeles, made a large loop through all the major canyons finally ended in San Francisco. And apart from the fact that we should have stayed somewhat longer in S.F. instead of L.A., the journey was the most beautiful one, which I hade made so far.(1996)
6 years later I was allowed to fresh up my memories a bit - with a vacation that took us to the northern parts of the west instead of the south. 5.000 miles in 3 weeks, a bit stressful but just as beautiful as the southwest. And San Francisco will always remain one of my favorite cities in the world.
Here is the original travel diary of the 2002-tour, written by Annette Gollmer. Unfortunately I have not been able to translate the travel story into english so it is only available in german. Sorry!
---
More information
National Park Service - official site
Nationalpark.net - overwiew with linklist
Crater Lake Nationalpark - National Park Service
Crater Lake Nationalpark - official site
Mount Rainier Nationalpark - National Park Service
Mount Rainier Nationalpark - official site
The Canyon.com - large site, very good
Yellowstone.com - official site
Achtung: Mit Urteil vom 12. Mai 1998 hat das Landgericht Hamburg entschieden, daß man durch Setzen eines Links die Inhalte der gelinkten Seite ggf. mit zu verantworten hat. Dies kann, so das LG, nur dadurch verhindert werden, wenn man sich ausdrücklich von diesen Inhalten distanziert. Deshalb distanziere ich mich hiermit ausdrücklich von allen Inhalten aller gelinkten Seiten. Diese Erklärung gilt für alle auf diesen Seiten angebrachten Links.
---