In this gallery you will find photos from a vacation in Oregon/Washington 2002. With your mousepointer over a thumbnail you will get more information. Please click the thumbnail to open the picture in a new window. All images have a size of 950x650 pixel or 80-230KB. Enjoy your holidays!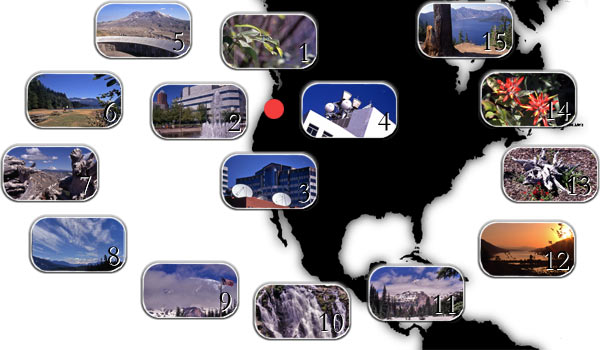 ---
Oregon und Washington
Besides Seattle as the most beautiful city of the two States Oregon and Washington the following places will remain in my memory: Portland, a small, somehow dreamy city at the west coast, St. Helens, the place, where 50 people and millions of animals died because of the volcanic eruption in 1980 and Mt. Rainier, a brilliant mountain with glaciers, animals and perfect hiking trails.
Even in the middle of July parts of the hiking trails of Mt. Rainier were covered with more snow than the average European sees in the entire winter. One of the trails was frozen so we couldn't cross it. A fantastic experience.
---
1. Dragonfly
It was fun watching the blue dragonflies. Particularily when two of them provided us with insight in the reproduction of the race :-)
2. Waterplay
Fountain in Portland, not far from the World Trade Center
3. Dish
I just liked the contrast between blue sky, the two buildings and the radiating white satelitedish
4. Blue-white
Not from Bavaria, but from Portland, and I still don't know what it is. Perhaps someone can help me?
5. Memory
Monument with view of Mount St. Helens, a reminder for the victims of the volcanic eruption in 1980
6. Rest
Beautiful space on the way from St. Helens to Mt. Rainier
7. Rainier
My favorite picture from the whole vacation, taken from St. Helens. In the background you can see Mt. Rainier
8./9. Mountain
Further impressions of Mt. Rainier, who has got his own weather agenda. On the day we visited the mountain, he decided to carry a nebula around the top.
10. Water
Pretty waterfall at one of the hiking trails in the Rainier Nationalpark
11. View
One of the few moments, when mountain put aside the foggy cloud
12. Alene
Sunset at the Coere d'Alene, according to GEO one of the five most beautiful lakes in the USA. I don't want to contradict GEO
13. Collage
Beautiful 'still life' created by nature. Shot at Crater Lake
14. Bloom
Pretty example of a plant I do not know the name of
15. Crater Lake
Panorama picture of the Crater Lake, an extinct volcano
---