In this gallery you will find photos from a vacation in Paris in May 2004. With your mousepointer over a thumbnail you will get more information. Please click the thumbnail to open the picture in a new window. All images have a size of 1100x750 pixel or 140-250KB. Enjoy your holidays!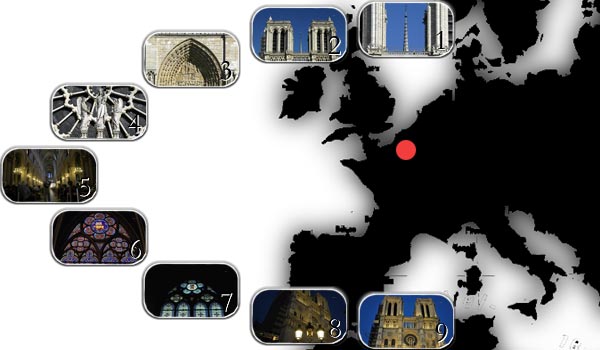 ---
Notre Dame
The dimension of this building can only comprehend, who stands directly under the middle entrance of Notre Dame and looks up. But not just the almost impossible size is breath-taking, it's also the little details in the building, for example the beautiful windows.
I'm really nobody who stands unter the suspicion of always speaking euphorically about churches and other christian buildings. But Notre Dame on the Ile de Cite is a top object of interest, which no Paris visitor should be allowed to miss.
Notre Dame, who is dedicated to the mother Jesu, was built during a period of nearly 150 years in gotic style - to be exact, in all exicting gotic styles - starting in 1163. Even the restoration of the cathedral in the 19th century lasted more than 20 years.
---
1-4. Front
Impressions of the remarkable front of Notre Dames
5. Interior live
Walk the interior of the cathedral to understand the considerable size of the building
6.-7. Window
...and to see the huge windows, onw more creative than the other
8.-9. Blue hour
And of course the best time to watch Notre Dame is at dawn, waiting for the lights
---